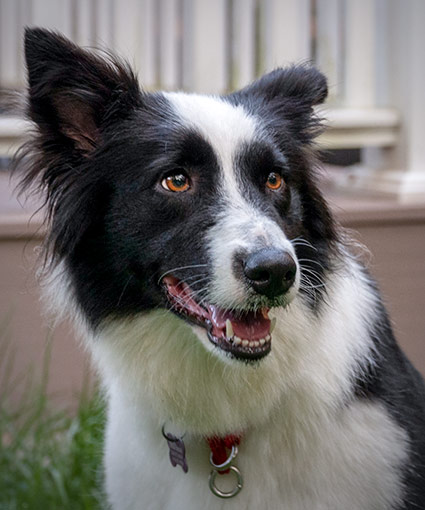 A Tax deductible sponsorship gift of any amount is welcome in support of our rescue dogs.
ACTIVITY LEVEL: Very Active Companion/Sport Competitor
Zoe's adoption is pending!
Hi! My name is Zoe and I am looking for a someone (or someones) who likes to cuddle, go for long walks, give me lots of belly rubs and take me on lots of car rides.
I am a young (18 months or so), spayed female, rough-coat border collie. Although my foster mom thinks I am still a bit skinny, I think I am just right at 34 lbs. I LOVE running, cuddling, car rides (yes, even to the vet and my spa day!) and playing with other dogs, including my old foster brother. My foster mom says I have great potential for agility. I am crate trained, house trained (not one accident so far!!), have very good recall, sit to be leashed/unleashed, and my leash walking is improving daily on a harness – welllll, except when I am on squirrel patrol! I mean, the squirrels are taking over the world and I alone can stop them! I also know sit and down and when food or treats are involved, you have my undivided attention.
I am hanging out in Washington, DC for the time being and the city does not bother me one bit – lots of new smells, dogs, and things to see and do. Even thunder does not bother me. But I would very much like a bigger yard to run, play and hunt squirrels. I get along with all the people and dogs I have met and even my foster brother and sister, who are older than me. I will admit that I am a bit of a toy hog but really, what teenager is not? I hope you are looking for an awesome dog like me because I am exceedingly affectionate and really want to be with my person/people.
Note from foster mom: Zoe is a really good dog with typical teenage border collie energy and will need plenty of exercise. She is very eager to learn and food motivated. She has not been cat tested and not been around small children but, given her energy level and enthusiasm, she will do better with older kids. She is exceedingly affectionate and is a bit of a Velcro dog. She will also need a fenced yard to run and play.
All potential adopters are required to have a home visit prior to placement of one of our rescues, and we offer a two-week trial period when you adopt one of our dogs.
Thank you for considering a rescue dog!