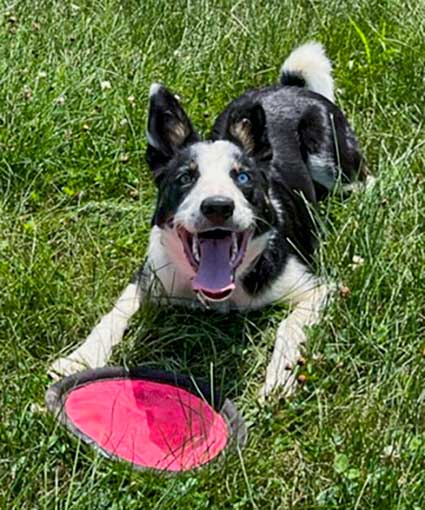 A Tax deductible sponsorship gift of any amount is welcome in support of our rescue dogs.
ACTIVITY LEVEL: Active Companion
Blue's adoption is pending!
Blue will only be adopted out to a person/family with border collie experience!
Blue is an energetic young boy of 8 months old. He has a dominant personality and needs a human that is a leader and doesn't mind putting a little time into this boy to make him perfect! He was raised with a 3 year old and is fine with kids, but his energy & manners as too much for a little one. Blue is actually a very sweet boy – not a bad dog. He just ruled the home he was in and didn't get the exercise or training that he needed to keep him out of trouble. He got bored and chewed up things in the house. Then he was confined to a crate. In his crate, he also became bored even with toys stuffed with food. He learned that if he bolted out of the crate, people couldn't catch him. He thought it was a game to be chased and caught, therefore, if you grabbed his collar, he learned to twist free. If he can't twist free, he may attempt to put his mouth on your hand to get free.
Blue is very trainable. He needs someone that won't let him win his games. Once he learns a routine, he follows it, but I'm sure he will test your skills. He's a smart boy – too smart for an dog owner that doesn't understand border collies.
Blue loves people and is very friendly with everyone he has met. He needs reminders that he's not supposed to jump on people. His leash manners need work, too. He's housebroken and crate trained. He knows sit, down, and shake for a treat. He will retrieve a ball or frisbee, and quits when he's tried. He was overweight, with more exercise, he will build up more stamina. He loves all toys and needs lots to chew on & entertain himself.
Blue does well with other border collies. He can get rough playing as he's a puppy with no dog socialization skills. Blue is still a puppy at 8 months, so he can be taught to be a good boy.
All potential adopters are required to have a home visit prior to placement of one of our rescues, and we offer a two-week trial period when you adopt one of our dogs.
Thank you for considering a rescue dog!