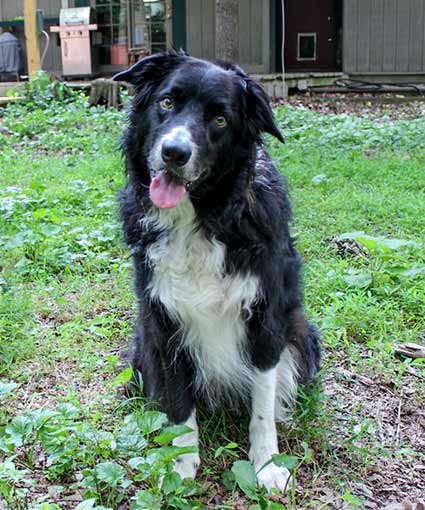 A Tax deductible sponsorship gift of any amount is welcome in support of our rescue dogs.
ACTIVITY LEVEL: Active Companion
Meet Wrigley!
A big bundle of fur and fetch, Wrigley is just over 73 pounds of pure bred, neutered, Border Collie. Birth date unknown, he was listed as six years old in March of 2022. He loves to fetch a tennis ball and will bring it back most of the time, though only half way. Wrigley gets along well with other dogs, but is aggressive toward cats, ducks, chickens and small children.
Otherwise well mannered and fully house trained (doggy door, too), Wrigley is allowed to freely roam in my house at night and while I'm gone. The spot he seems to prefer when I'm in my office is lying right next to my chair (in the hot weather his panting makes my monitor oscillate). Contrary to a lot of Border Collies, Wrigley is not bothered by thunder, neighborhood gunfire or other loud noises.
When it's time for a bath, he goes willingly into the bathtub and is calm throughout the process.
Wrigley is not microchipped, but is up to date on all vaccines, including a 12 month heartworm preventative administered in March of 2022.
His foster home is in Bluemont, Virginia.
If you are interested in adopting Wrigley, please fill out an application. All potential adopters are required to have a home visit prior to placement of one of our rescues, and we offer a two-week trial period when you adopt one of our dogs. Wrigley's adoption fee is $300.
Born – unknown
Weight – 73 pounds
Rabies due – November 2023