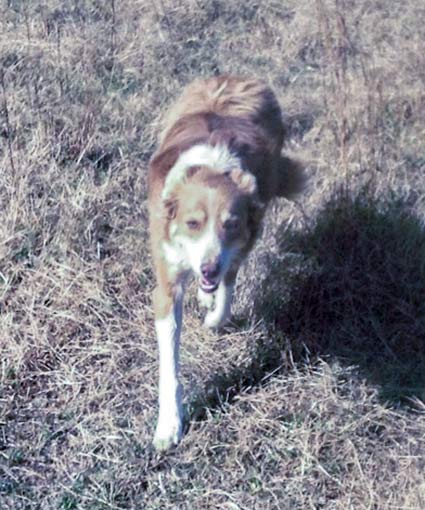 A Tax deductible sponsorship gift of any amount is welcome in support of our rescue dogs.
ACTIVITY LEVEL: Active Companion
Meet Rebel!
This handsome guy is sweet, sweet, sweet! He is very friendly and happy and wants to please. He is not quite as confident as his sister, Layla, and looks to her for confidence, but would adjust fine to being without her.
He was always an outside dog until he came to his foster home, but has adjusted well. Sometimes, if he is unsure of what is wanted, he will take a guess and do that as quickly as possible…things like rushing into a crate without checking if it's already occupied by another dog. He needs someone with training knowledge and patience. A fenced yard is a must. He also requires a crate for sleeping and traveling.
Rebel is learning not to chase cats or chickens. He does show a tendency to herd other dogs that run (but not his sister) but responds well to a verbal correction. He walks nicely on leash without pulling.
He does not show any interest in playing with balls or toys. I was told that he likes kids. I think he would do fine with older children.
If you are interested in adopting this sweet guy, please fill out an adoption application and contact his foster mom, Kay, at faithandquest2@gmail.com. All potential adopters are required to have a home visit prior to placement of one of our rescues, and we offer a two-week trial period when you adopt one of our dogs. Rebel's adoption fee is $300.
Thank you for considering a rescue dog!