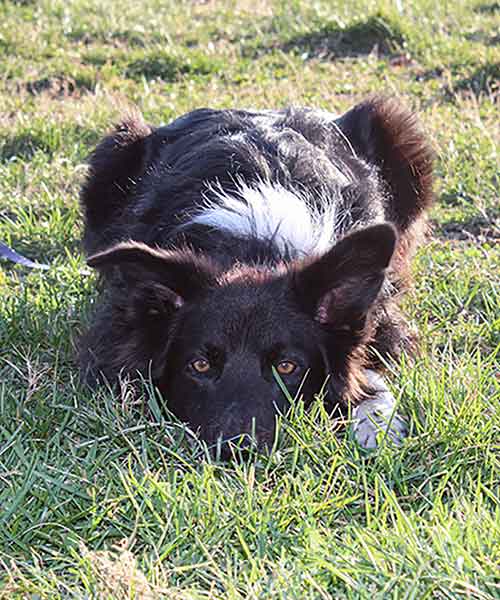 A Tax deductible sponsorship gift of any amount is welcome in support of our rescue dogs.
ACTIVITY LEVEL: Active Companion
Meet Jack!
Jack is looking for a new home where he can learn to trust again. It appears that he has been in a pen and neglected for quite some time. He is politely friendly to everyone he meets but is still somewhat shutdown mentally.
He acts like he was a house dog at some point in his life as he's comfortable indoors. He is very good in a crate and has excellent leash manners. Overall he's been quiet and well behaved in his foster home but appears to be coming out of his shell a little bit with time. It's hard to judge his eventual activity level however so far he's been pretty mellow.
Jack actively avoids other dogs and appears to be afraid of them. Recently he's begun to follow the other dogs in his foster home but shows no interest in interacting with them. He is most comfortable with dogs that ignore him.
The one thing that really excites him is herding. He has a VERY strong herding drive and would be a great choice if you're interested in hobby herding. He's been good with the sheep and hasn't chased or nipped. High dog activity will sometimes bring out his herding behavior too.
Jack has ignored the cats in his foster home and shared a pen with turkeys in his former home. He has shown some sound sensitivity to gun shots and thunderstorms.
Jack's adoption is pending.