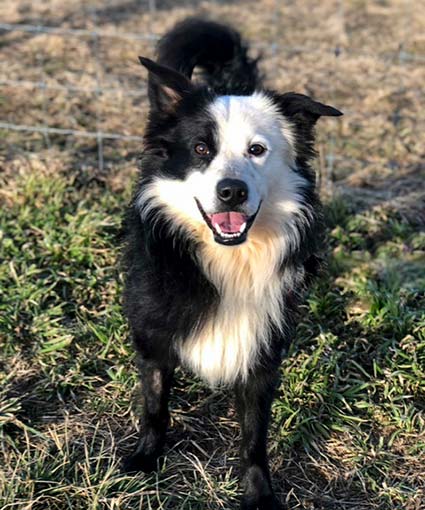 A Tax deductible sponsorship gift of any amount is welcome in support of our rescue dogs.
ACTIVITY LEVEL: Active Companion
Phantom's adoption is pending.
This handsome guy is full of positive energy. He wiggles and wags – right into your heart!
Phantom is obviously, very handsome!!! He's a split face border collie mix. He is young – I doubt he's 2 yet. He certainly has the energy of a 1 year old. He loves to run and run with other dogs, often running circles around them, sometimes he bounces into them. I've had him to the park and walked a few miles with him with groups of lady friends and their dogs.
He loves people! Loves attention! He really needs a good romp in the morning so he can settle nice inside. He will chase squirrels and probably anything that runs – including cats. I was told that he likes to chase squirrels, horses, cars, and was quite intense about getting to the cats at his previous foster home.
I've walked him down our country road and I didn't witness any reaction towards the cars that passed while on leash. He doesn't have a good recall at this point in time, so I certainly wouldn't let him off leash. This boy needs a fenced yard to burn off some of his exuberance.
Phantom doesn't seem afraid of things. He's such a happy – happy boy. He wiggles his whole body when he comes to me. He likes kids, but could easily knock them over if he's not controlled on leash when he meets them. All his human introductions have been very enthusiastic. Phantom pulls pretty hard on the leash at first during our walks, but soon settles in and walks decent.
When Phantom first arrived, he went thru some separation anxiety, which is to be expected. He barked in his crate when left alone. He was overwhelmed when he got here and  fearful of my dogs the first 2 days. Now that he's been here awhile, he's great. I've been introducing him to other dogs by first taking the dogs for walks together. That has worked well.
I was told that Phantom doesn't play with toys, but, I've found that he does here. His attention span needs work. He'll play with a toy or ball for 2 minutes, then want to play with something else. I think that would come with time and experience, if you wanted him to fetch & retrieve balls.
Phantom has also been very clean in the house, his crate, and his outside kennel – no accidents. After he has had a romp in the morning, he comes inside and hangs out in my kitchen, later he goes outside in a fenced yard and stays in a 10 x 10 outside when I leave home. He sleeps quietly in a crate in my dog room at night.
Phantom still needs some basic manners. He learns fast and does well with routines. For example, he has learned that he can't jump up on the counter to steal food while he's here, but I bet he will test his family when he goes to his forever home.
Phantom is now up to date on shots, heartworm and tick disease tested, and neutered.
If you are interested in adopting Phantom, please fill out an application and contact his foster mom, Sylvia, at sylviaspets@aol.com. All potential adopters are required to have a home visit prior to placement of one of our rescue dogs, and we offer a two-week trial period when you adopt.
Thank you for considering a rescue dog!