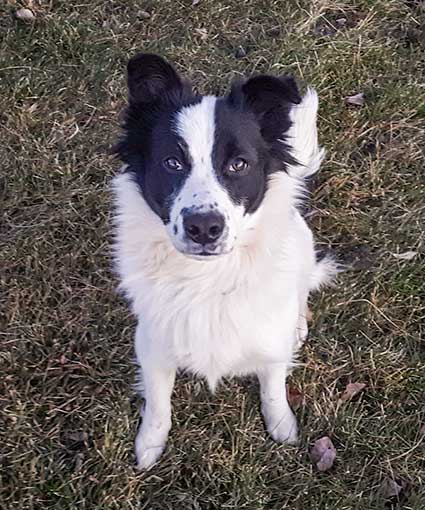 A Tax deductible sponsorship gift of any amount is welcome in support of our rescue dogs.
ACTIVITY LEVEL: Very Active Companion
Meet Jace!
Jace is a loyal sweet heart! We don't know much about his past as he was a drop off along with a sweet Pitbull. He is shy about people who reach over him to pet, but if you squat down, he's right there to see you. He is uncomfortable with strangers coming up to his crate, but quickly adjusts when let out. Children make him wonder a bit, but he is quick to come up behind them for a nose bump and quick sniff. He has a great deal of enthusiasm for life and with his springy step and swishy tail, he definitely brings many smiles to my family. I would imagine his past owner shared dinner with him, possibly from the same plate. We continue to work on manners. Nothing bad, just a free spirit left to develop without many boundaries. He is quiet in his crate all night and sometimes in the day.
He gets along well with every single animal we have; old cats, young cats, old grumpy dogs, young high energy Corgi, ducks, chickens, goats, sheep, horses, cows and one spotted pig. He does not have any inclination to herd, but will fetch a tennis ball if my other stronger dogs are not around. He avoids conflict at all cost, walks okay on a leash and does not chase cars. He knows sit and down, although stay is a challenge. Most of his day is spent running around on the farm with me and his six fur-siblings, or romping in the yard. He rides well in the farm truck, but gets sick in the car on longer drives. I have not tried any anti-nausea meds.
I would hope for Jace to get a home with a confident playful dog or a very interactive human. A quiet home with two walks a day will not be a good fit for him. He may be a nuisance to an old dog.
All potential adopters are required to have a home visit prior to placement of one of our rescues, and we offer a two-week trial period when you adopt one of our dogs.
Jace's adoption is pending!