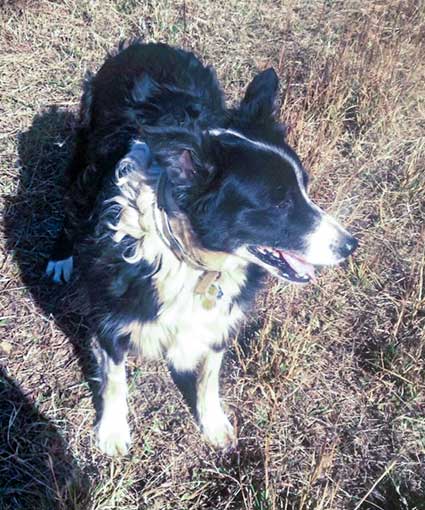 A Tax deductible sponsorship gift of any amount is welcome in support of our rescue dogs.
ACTIVITY LEVEL: Active Companion
Layla's adoption is pending.
This lovely girl came to BRBCR along with her brother, Rebel, when their owner could no longer care for them due to health issues.
Layla is a very smart, confident BC! She previously was an outside dog, but has adjusted very well to her new lifestyle in her foster home. She sleeps quietly in a crate all night, showed no fear of negotiating stairs, and walks very nicely on leash. She gets along with all of the other dogs at her foster home, although she does want to herd dogs that are running. She probably would not be a good candidate for dog parks for this reason.
She is a very happy, friendly dog. She learns quickly and really wants to please! She needs a home without cats or other small animals.
She has no interest in playing with balls, toys, or frisbees.
She is still very much a work in progress, and needs an owner with training experience. A fenced yard is required, although, I think she could learn to go on hikes off leash without much trouble.
I have not had her around children, but was told she likes them. I think she would do well with older children. She might be tempted to herd smaller ones.
Thank you for considering a rescue dog!