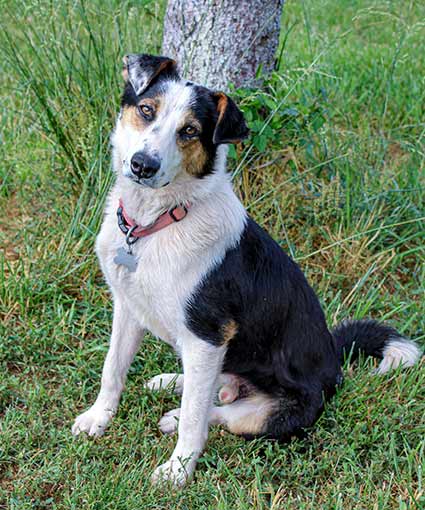 A Tax deductible sponsorship gift of any amount is welcome in support of our rescue dogs.
ACTIVITY LEVEL: Active Companion
Meet Dandee!
Dandee is looking for a good time! This boy would love to be a companion for someone who wants a dog that loves outdoor activities. He has been practicing his leash manners and obedience work so he'll be ready for anything!
He appears to have spent most of his life outside in a run so will need patient supervision to help him learn house manners in a new home. However, he has done well in his foster home and seems very cooperative. He is crate trained and does not seem to be a chewer. A fenced yard is a necessity to give him the opportunity to work off some of his energy so he can be mannerly inside.
Dandee has been very friendly to everyone he's met. He apparently has never been around young children and is very unsure with them so will do best in a home with older children only. He also has never been exposed to toys but tries to understand the game when his foster mom takes out a ball. With time and patience he would love to learn to play!
He has done well with the other dogs in his foster home but, because of his pushy play style, will need a dog friend that can hold its own. He has never been aggressive toward the other dogs but will run in and nip when he gets excited. He respects a correction from other dogs and immediately backs off.
If you're looking for an energetic doggy companion please call Karin, 540-272-0470, or email karinmaida@aol.com.
To start the adoption process, please fill out our application.  All potential adopters are required to have a home visit prior to placement of one of our rescues, and we offer a two-week trial period when you adopt one of our dogs. Dandee's adoption fee is $300.
Thank you for considering a rescue dog!