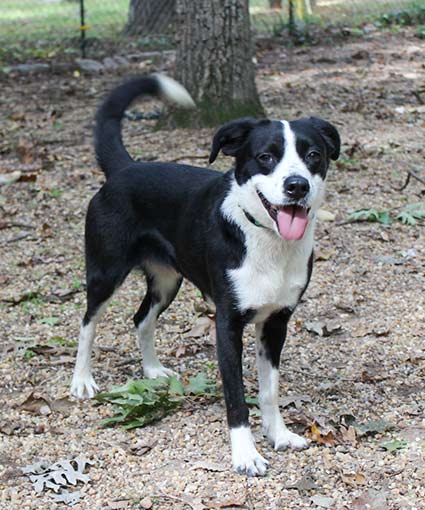 A Tax deductible sponsorship gift of any amount is welcome in support of our rescue dogs.
ACTIVITY LEVEL: Active Companion
Meet Haley!
This is Haley, a five year old 25 pound Border Collie mix who was recently spayed and rendered up to date on all of her vaccines. A quick learner, this girl mastered the doggie door in no time. Haley is now allowed free run of the entire house, night and day, and she has not gotten into trouble or made an mess, even if I've been gone a few hours. She is not an overtly vocal dog, but will bark when someone enters the driveway or when our neighbors go to the mailbox with their dogs.
Haley does well on a leash, but she is utterly irrepressible when it comes to attention. She will gladly take all of the love and hugs you have to offer, and then some. When I give love to my other three dogs, she wants to get in the middle and steal their hugs. She also likes to jump up when seeking attention, but I'm sure that all of these "bad" behaviors can be eradicated with the proper training.
She gets along well with other dogs and takes readily to other people. The jury is still out on whether she likes cats.
Her foster home is in Bluemont, Virginia. All potential adopters are required to have a home visit prior to placement of one of our rescues, and we offer a two-week trial period when you adopt one of our dogs.
Born – September 17, 2017 (estimated)
Weight – 25 pounds
Rabies due – September 22, 2023
Haley's adoption fee is $300.
Thank you for considering a rescue dog!