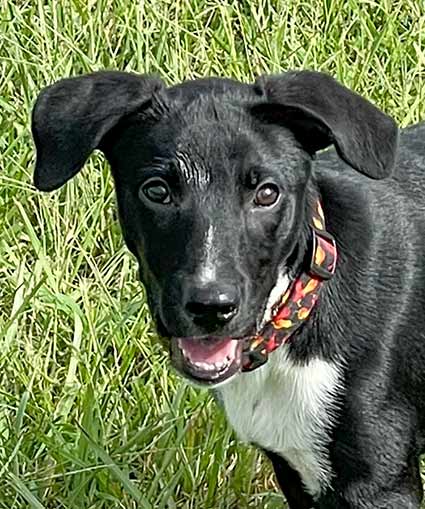 How You Can Help Puppy Archie
A Tax deductible sponsorship gift of any amount is welcome in support of our rescue dogs.
WEIGHT: 19 lbs as of 09/16/2022
ACTIVITY LEVEL: Active Companion / Sport Competitor
Meet Puppy Archie!
What a fun fellow. Archie has been a delightful foster puppy, but he IS a puppy. (Guestimated birthdate is around the last week of June.) His best home would be one that is ready for puppy-raising and all that entails. He has that wonderful puppy energy, but can also calm down once he has been exercised, both physically and mentally.
Archie is doing well with house-training, but I make sure to take him out often throughout the day. He is happy to do little training sessions with food reinforcements. Right now, his naughtiness has been grabbing paper towels and shoes for chew sessions. Don't forget he still has his shark puppy teeth so your best friends will be chew toys. He will trade off for a toy if you make the toy exciting. He has merged easily with my three dogs, but on a trip out to a restaurant patio, he did bark at an approaching dog – which was most likely fear-based. As for any puppy, you will need to gradually increase his confidence in social situations. He should be fine with cats – he is interested and sometimes wants to play, but at this age, he is too slow and clumsy to bother any cat that wants to escape.
Archie has slept through the night in a crate in our bedroom. He is not happy if he is put in an X-pen in another room. His new owner should be ready to continue with crate training until he is comfortable alone. He rides great in his crate in a car.
Archie seems to have a very stable disposition despite his unknown background – picked up as a stray in a rural area. He is probably a border collie mix – with the distinctive 'shepherd's lantern' white tip on his tail. Since he is still a very young puppy, his adopter should be prepared to deal with puppy energy, attend puppy manner classes and then continue with his training because he is smart enough to be trained in any manner of sports. He is very attentive to his person.
Archie could be an 'only' dog, but he really gains confidence from his canine foster siblings. I think he would do best with another dog that welcomes puppy energy.
To adopt Archie, please complete our online application. If you have any specific questions about Archie, his foster mom can be contacted at jklrsn@gmail.com. Archie is located in Montvale, VA. BRBCR does not ship dogs so you should be ready to meet him (and pick him up) at his foster home.
Potential adopters are required to have a home visit prior to approval for adoption of a BRBCR rescue. We offer a two week trial period.
Archie's adoption fee is $300. In addition to his adoption fee, BRBCR will require a $150 neuter deposit – which will be returned when he is neutered (no later than 10 months old).
Thank you for considering a rescue dog!