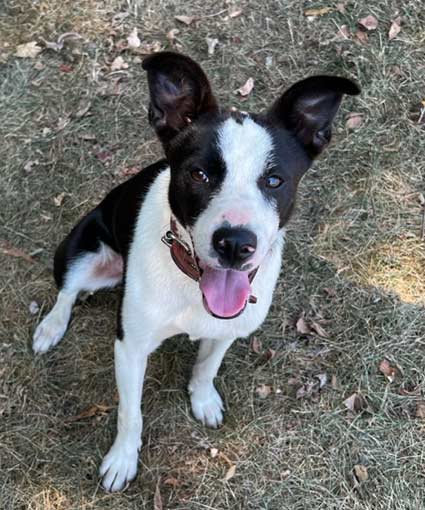 A Tax deductible sponsorship gift of any amount is welcome in support of our rescue dogs.
ACTIVITY LEVEL: Very Active Companion
Meet Wendy!
Wendy, Wendy, Wendy!! She's such a sweet little girl, enthusiastic about life, friendly, and young!! Wendy has Good Energy! She loves to run circles of joy especially when you first take her outside. If you love that type of fun energy, Wendy is for you! If you have another dog, you'll enjoy watching them romp together. Remember – she's still a puppy at 9 months and settles nicely after she is exercised.
Wendy is in a new foster home now, and she fits right in with the crowd ( dog friends) and when other dogs aren't around, she follows her person. She's such a happy girl – she'll bring a smile to your face every day. If you have food, she will offer different behaviors like sit, down, put her head on the ground, look up at you – she's eager to learn. She also has a good nose on her, meaning, if you toss a treat in the grass, she's going to sniff around and find it. This little girl is going to be fun for anyone that wants a dog to do tricks, the sport of nosework, or even agility!! She'll be started on clicker training here soon – she'll want something to keep her entertained! So many fun things you could do with her!!! She would really excel with any type of training. She wants to please!!
Wendy has been friendly with people, good with other dogs, but needs supervision with cats at this age. She's not afraid of anything, and a happy dog. Remember I said she's smart? She's going to be easy to housebreak and learn new rules… but watch out, she may try to train you!
Wendy's a flashy girl with a bobbed tail. We're guessing that Wendy is a bc x cattle dog x ?? She's shorter than a coffee table and much thinner- trimmer than a cattle dog.
Wendy is progressing with learning things, fast! It helps that she is very smart and quite food motivated. We recommend a fenced yard and training classes for her. She doesn't want to be just a pet, she wants to be your partner.
If you are the perfect forever home for Wendy, please fill out an application and contact her foster parent at sylviaspets@aol.com. BRBCR's approval process includes phone interviews, reference checks, and a home visit prior to meeting a foster dog. Approved applicants must meet at the foster dog's location. Every adoption begins with a 2-week trial period.
Wendy's adoption fee is $300.
Thank you for considering a rescue dog!