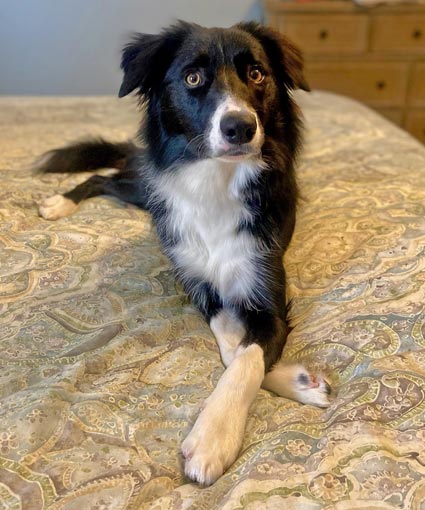 A Tax deductible sponsorship gift of any amount is welcome in support of our rescue dogs.
ACTIVITY LEVEL: Active Companion
Libby has found her forever family!
Libby is a dynamic, ball-fetching virtuoso! She is the most lovable Einstein you'll ever meet and will keep you entertained for hours! You'll have to ask yourself – who is having more fun? She is clever, intuitive, easy to train, and loves to learn new skills and tricks. She possesses confidence, ease & grace in physical activity and loves running & catching her ball outside. Her house manners garner a 5-star rating, and she gets along great with family dogs. With an extremely loving personality, patience, faithfulness, and gentleness, she will bond quickly with her new forever person.
Libby came from a loving and caring family who tried to do their best raising her, but were unable to keep up with her exercise, training, and socialization. As a result, she developed fearful responses when exposed to crowded, noisy and busy environments, and when meeting unfamiliar people. She has been in her foster home since January 2023, and through mindful, patient training, her fears have become manageable. Libby has shown resilience in her ability to recover from stressful situations.
Libby is a country girl, through-and-through, where she can have plenty of outdoor space for physical and mental exercise. She prefers a lifestyle that is far away from any suburban environment, where she can live in a quiet home with her stay-at-home person. Libby needs a home where she will feel secure and protected, without the worry of sensory overload from noise and visual over-stimulation. Therefore, a family with children will not be considered.
Libby is looking for her special person who understands and accepts her fears, and will give her all the time and patience that she deserves. If you are the perfect forever home for Libby, please fill out an application and contact her foster parent at liz.moultrie@gmail.com.
BRBCR's approval process includes phone interviews, reference checks, and a home visit prior to meeting a foster dog. Approved applicants must meet at the foster dog's location. Every adoption begins with a 2-week trial period.
Libby's adoption fee is $300.
Thank you for considering a rescue dog!