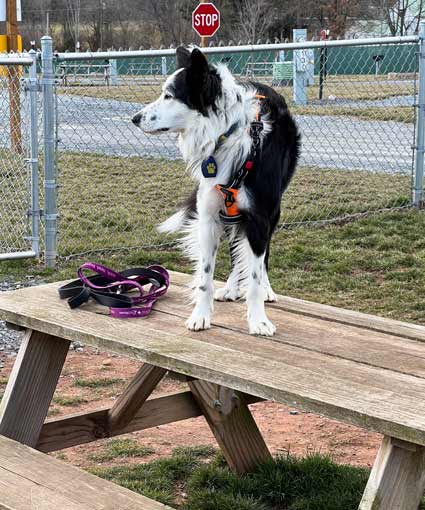 A Tax deductible sponsorship gift of any amount is welcome in support of our rescue dogs.
ACTIVITY LEVEL: Very Active Companion / Sport
Meet Tide!
Tide is an active boy with a heart to please.  He will need an adopter that will keep him active, keep his brain busy and regular cuddling. He loves to play – by himself or with other dogs. He investigates noises – our mailman is always greeted through the window as he passes the front of the house. Although he has a very good recall once you have his attention, he is still very much puppy and gets distracted easily, so I suggest a fence. Tide wants to be with his human – and often steals their chair when he thinks they are going to sit – then wants scratches while being cuddled.
He has been exposed to sheep in a herding situation and knows the verbal commands for sheep herding competitions.  He is learning to walk nicely on a leash and knows some obedience (sit, wait, stay). Tide is house broken and crate trained. He is good with other dogs and kids but not with cats or other small animals (chickens). He does have epilepsy and takes Keppra extended release every day, twice a day. He recently had a neurology appointment and shows no other neurological symptoms, just epilepsy.
If you are interested in adopting Tide, please fill out an application and contact his foster mom, Faith, at fae_mgk@aol.com. BRBCR's approval process includes phone interviews, reference checks, and a home visit prior to meeting a foster dog. Approved applicants must meet at the foster dog's location. Every adoption begins with a 2-week trial period.
Tide's adoption fee is $300.
Thank you for considering a rescue dog!