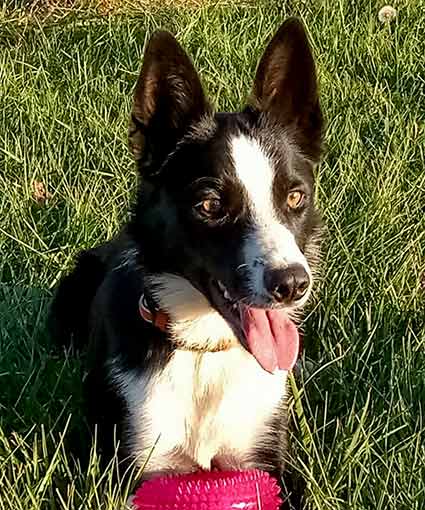 A Tax deductible sponsorship gift of any amount is welcome in support of our rescue dogs.
ACTIVITY LEVEL: Working / Sport Dog
Ranger's adoption is pending!
Ranger is a rascal. He is smart, funny and very active. Everything is done fast. He will make an excellent sport or herding dog. He loves to play with toys (or fire wood) and fetch. No couch potato here…unless he's playing keep away with his Corgi friend.
Ranger is crate trained and mostly house trained. To be certain of no accidents, he needs to spend a little time on a leash so he settles down enough to relieve himself. He walks fairly well on a leash, has a good recall, coming in quickly and joyfully.
Ranger is on a farm with horses, cows, sheep, goats, chickens, ducks, geese and cats. He does well with them all, although he does want to herd most anything. Ranger has been worked on sheep a few times and done very well. He is kind to his stock, beautiful to watch and so very willing to learn. Our cats just look at him, but a running cat would most likely lead him astray. Left to his own devices he would also herd the other animals, but has learned to listen and not do that.
He is young with a big motor. We are a busy farm and he is included in our life. He would most likely do best in a sport or herding home with an experienced Border Collie owner. It would actually be a shame to not let him work some livestock. It's his favorite thing. With patience, time and maturity, he would definitely love to be a team player on a working farm.
To start the adoption process, please fill out our application and contact Ranger's foster mom, Kristen at kstrecker24473@aol.com. All potential adopters are required to have a home visit prior to placement of one of our rescues, and we offer a two-week trial period when you adopt one of our dogs.
Ranger's adoption fee is $300.
Thank you for considering a rescue!