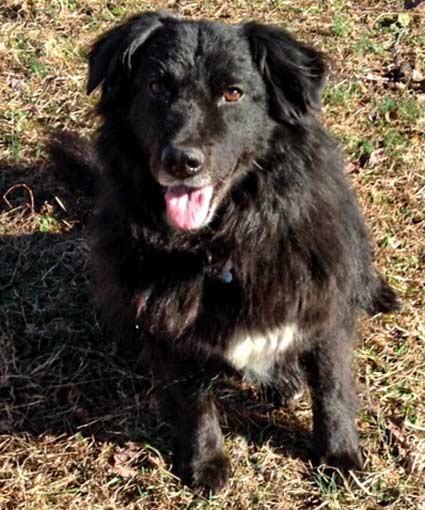 A Tax deductible sponsorship gift of any amount is welcome in support of our rescue dogs.
ACTIVITY LEVEL: Companion
Tess' adoption is pending!
This sweet girl lost her lifelong home and landed in a shelter when both of her owners died in December. She is now looking to become someone's loving companion.
BRBCR took her in as a foster dog a few days before the New Year. She has been a model foster dog! Within three days of arriving in her foster home, she had full yard privileges and went along on a 1/2 mi. hike in the woods with 8 other dogs, off leash!
She is completely housebroken,has a good recall, and knows some basic commands, like sit.
Tess formerly lived as an only dog, but has gotten along very well with all of the other dogs at her foster home. She is very good with cats. There are multiple indoor/outdoor cats at her foster home. She formerly lived with a 10 yr. old spayed female cat, Stella, who also went to the shelter. Stella is also now at the same foster home as Tess, and would love to be adopted, also. You could get a two for one deal! However, it is not necessary for them to be adopted together. I simply could not leave her behind at the shelter!
Tess loves people and attention! I doubt that she has ever met someone she hasn't immediately liked! She would be very happy as an only dog, getting all of the attention!
However, I don't know how she is with young children.
Tess is very healthy, up to date on vaccinations, HW negative and on preventative, and is quite spry. She is slightly overweight at 50 lbs. Her ideal weight would be around 45 lbs. She does not seem interested in toys or games of fetch. She has begun to engage in play with other dogs.
She is happy to spend time indoors in a crate, but is well behaved and trustworthy loose in the house and yard. A fenced yard is preferred, especially if she were to spend anytime outside unsupervised.
When she is excited, she sometimes wants to jump up on people. A simple "No!" stops her.
She likes to ride along in a car.
Her very thick, full coat does require regular brushing and combing, and she would benefit from regular "spa days".
If you are interested in adopting Tess,(and, maybe Stella, too?) please fill out an online adoption application and contact her foster mom, Kay Sander, at faithandquest2@gmail.com. Tess's adoption fee is $300.
Thank you for considering a rescue dog!