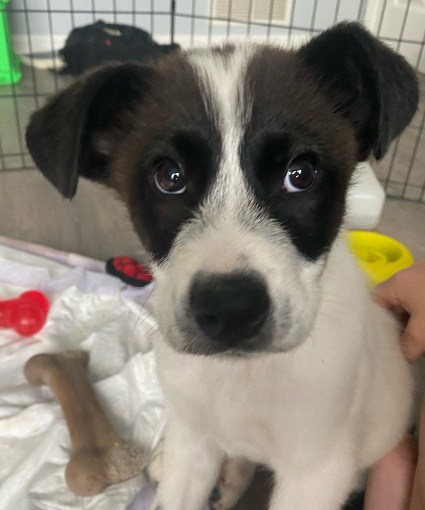 A Tax deductible sponsorship gift of any amount is welcome in support of our rescue dogs.
WEIGHT: 11 lbs at 13 weeks old
ACTIVITY LEVEL: Active Companion
Spot has found his forever family!
This 13-week-old great Pyrenees mix was surrendered with his litter in Wise County, VA. We have been calling him Spot due to his little dot on his forehead.
Just like with any puppy, Spot will need an adopter who is committed to continued house and crate training, and with him being a Pyrenees mix, he could potentially be 50+ pounds so be ready for a big boy! Spot handled bath time, nail clipping and grinding with ease, which us humans are very impressed by. He also doesn't nip or chew on us humans but loves to instead chew on bones and toys! Spot is very lovable and loves to lay on his fosters lap and take a big nap! He loves to be outside and adventure around and he is working on recall and some tricks like sit and stay.
Spot is very playful and vocal. He loves to follow you and stay close, medium velcro. He is very determined and knows what he wants. Very treat driven and wants to please his owner. Loves to chew on anything edible.
If you are interested in adopting Spot, please fill out an application and contact his foster parent, Madison at madisonchapman95@gmail.com. BRBCR's approval process includes phone interviews, reference checks, and a home visit prior to meeting a foster dog. Approved applicants must meet at the foster dog's location. Every adoption begins with a 2-week trial period.
Spot's adoption fee is $300. Since he is too young to be altered at this time, the Adoption Contract will include a Spay/Neuter Agreement which requires a deposit of $150 (to be refunded when veterinary proof of alteration has been provided).
Thank you for considering a rescue dog!