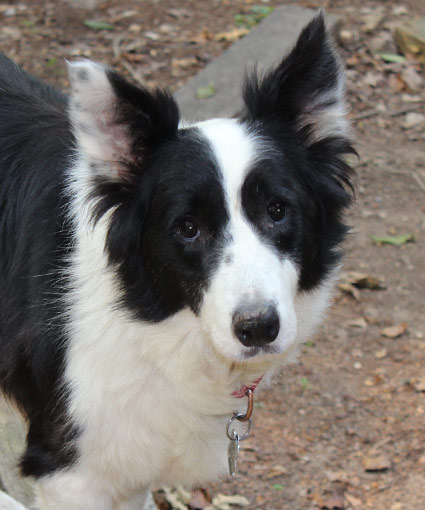 A Tax deductible sponsorship gift of any amount is welcome in support of our rescue dogs.
ACTIVITY LEVEL: Active Companion
Breeze has found her forever family!
Say hello to Breeze, a 48 pound, spayed female Border Collie estimated to be about four years old. She was taken to the Jefferson County West Virginia animal shelter on April 1st, where she stayed for 42 days before being rescued. Breeze was found wandering near Middleway, WV. She is house trained, doggie door trained and a very sweet, though Border Collie hyper, dog.
Breeze suffers from alopecia (hair loss) on her hindquarters. The vet thinks the root cause was an allergic reaction to an abundance of fleas (which are long gone) and suggests that when the hair will come back is anyone's guess. Other than that she is healthy, energetic and up to date on her vaccines (rabies, Bordetella, Corona, DHLPP (Distemper, Hepatitis, Leptospirosis, Parainfluenza, and Parvovirus). She is also taking flea/tick and heartworm preventative medications. Breeze has been microchipped, but the chip has not been registered.
Although she is apparently not well versed at herding, she does hover over my two small dogs, but they're used to it and just ignore her. She's not aggressive in her faux herding, but I feel that she would be better in a home that does not have infants or toddlers. Her reaction to unknown dogs is mostly indifference.
Breeze rides well in a crate in the back seat and knows right where to go when the truck door is open. She even responds excitedly when asked if she wants to go for a truck ride! She pulls excessively when constrained to a short, fixed length leash, but does quite well with a long, dynamic length retractable leash. I've left her at home alone, with the doggie door open, and she doesn't get into trouble unless I leave the kitchen trash can where she can get to it.
It is so far unknown how she reacts to neighborhood gunfire, sudden loud noises or thunder in the area and I will update the profile as soon as I find out.
Tennis balls and frisbees do not interest her, but she is treat motivated and eager to learn (she is VERY intelligent). Maybe you could be her teacher?
If you are the perfect forever home for Breeze, please fill out an application. BRBCR's approval process includes phone interviews, reference checks, and a home visit prior to meeting a foster dog. Approved applicants must meet at the foster dog's location. Every adoption begins with a 2-week trial period.
Breeze's adoption fee is $300.
Thank you for considering a rescue dog!