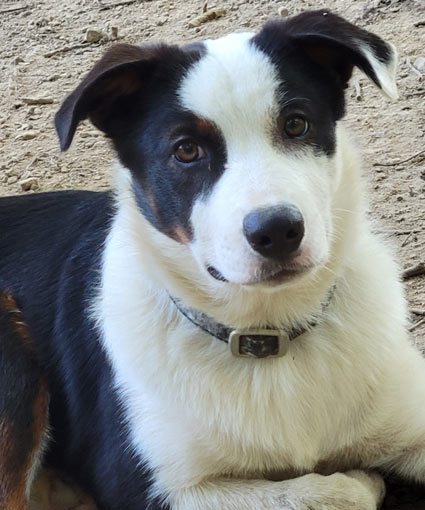 A Tax deductible sponsorship gift of any amount is welcome in support of our rescue dogs.
ACTIVITY LEVEL: Very Active Companion
Ripley has found his forever home!
Believe it or not, Ripley was picked up as a stray! We're not sure how he ended up on the mean streets, but he did pick up some skills on the road. Ripley has surprised us with his manners. He is a very friendly dog who is willing to accept belly rubs from anybody. This is a dog who will accept rides from the sketchy dude in a van if they have candy…maybe even if they don't have candy. Basically, he has no stranger danger detector. He likes everybody.
He knows that other dogs can be super fun to play with (Click here to see Ripley playing) and is gracious about sharing his toys – so much so that he may divide the toy evenly down the middle so no one feels left out. He also knows that cats must be treated as potential cranky overlords who are overly fond of using their claws, and he treats them with the copious amounts of respect they richly deserve. (Click here to see Ripley ignore a cat.)
Ripley's foster mom reports that while he's curious about the chickens, he hasn't tried to break through or under any fences to get up close and personal, but she hasn't trusted him enough to be off-leash while they free-range.
Foster mom also reports that Ripley is her shadow; he's really looking for a human BFF that he can hang out with pretty much round the clock. Dog friends are fun, but a human friend is his #1 wish.
Ripley walks very nicely on leash  (click here for Ripley's walking video) and thinks car rides are just the best. In an effort to feel the wind in his ears, we don't doubt he'd hitch a ride with a delivery driver.
Ripley picked up potty training very quickly and is equally quickly learning some basic obedience. Rip is very eager to please and would be a super fun dog for anyone who wants to take training to the next level. Since he's still quite young at only six months old, the sky may be the limit as far as his capabilities are concerned. He is also doggie door trained.
We've quickly discovered that Ripley LOVES the water – whether it's the pool, the hose or a koi pond, Ripley says: "Game on!" Pool time is one of his favorite play activities.
Ripley's only flaw (and we think it's a temporary one if treated with consistency, patience and care) is that he has some separation anxiety. Rip copes pretty well during the day if he needs to be crated for short periods and actually goes into his crate with no fuss at all, but at night, the crate equals anxiety. To quell the anxiety, just turn on a night light and the TV. Better yet, let Ripley have the run of the house, which he has here with his new foster papa.
To start the adoption process, please fill out an application and contact curt@curtharvey.com.
BRBCR's approval process includes phone interviews, reference checks, and a home visit prior to meeting a foster dog. Approved applicants must meet at the foster dog's location. Every adoption begins with a 2-week trial period.
Ripley's adoption fee is $300.
Thank you for considering a rescue dog!