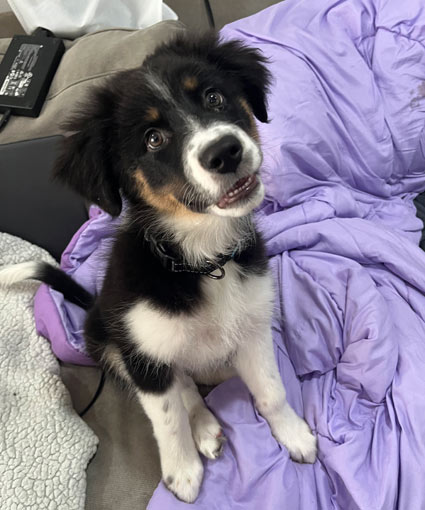 A Tax deductible sponsorship gift of any amount is welcome in support of our rescue dogs.
WEIGHT: 19 lbs. (at 4 mos old)
ACTIVITY LEVEL: Very Active Puppy
Dashi's adoption is pending!
At four months old, Dashi is a herding dog through and through. She is bold, playful, curious and has boundless energy. She is also super sweet and loves attention. Like many female herding dogs, she is already very self-confident and adaptable. She is also very athletic and pretty fearless around the house, climbing on furniture and even walking behind the vacuum cleaner to see what its up to as well as following the resident ducks at her foster home.
Dashi has huge potential as an active companion or possibly a sport dog and will need a savvy person familiar with very smart herding dogs.
Dashi has one trait that needs work which is her mouth on human hands, likely from her puppy days. Training and an active home with hiking or sports will be beneficial to help her use her mind not mouth. She will only be placed in adult home.
Dashi has been wonderful with new people and is good with other dogs. Her enthusiastic greeting with adult dogs can be overwhelming so she does best with other dogs who give her clear direction as to what is ok and what is not. She is very attentive and listens well to another dog. With Dashi's strong personality, the best fit would be a dog that could match her energy rather than feel overpowered.
If you are interested in adopting Dashi, please fill out an application and contact her foster parent at yananicole@gmail.com. BRBCR's approval process includes phone interviews, reference checks, and a home visit prior to meeting a foster dog. Approved applicants must meet at the foster dog's location. Every adoption begins with a 2-week trial period.
Dashi's adoption fee is $300. Since she is too young to be altered at this time, the Adoption Contract will include a Spay/Neuter Agreement which requires a deposit of $150 (to be refunded when veterinary proof of alteration has been provided).
Thank you for considering a rescue dog!