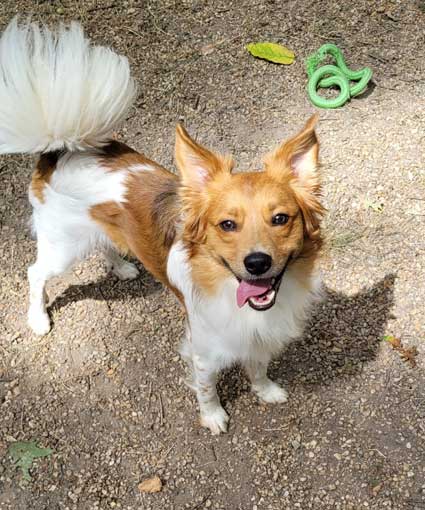 A Tax deductible sponsorship gift of any amount is welcome in support of our rescue dogs.
ACTIVITY LEVEL: Active Companion
Meet Murfee!
He Knows That Hug
I gave Murfee a special hug this evening. A hug that said I really love you and I'm going to miss you when you find your forever home.
His paws were on my shoulders, giving me a hug at the time, and he stopped looking at me, studiously avoiding eye contact. His body turned to the side and his paws dropped from my shoulders, down to the middle of my chest. When I asked for a kiss, his head came around and the look in his eyes said to me that he has had that hug before.
I can only hope, with all my heart, that I'm the next to last person to share that hug with Murfee.
Murfee came to me as a barely socialized (with people) puppy, about a year old. He would react to strangers by barking loudly, sometimes lunging in their direction, straining my hold on his leash. He's gotten better in that situation, but still needs more socialization. He is one of those dogs that will act aggressively if a stranger puts their face in his. He hasn't bitten anyone, but he will let his displeasure be known.
The interesting thing about Murfee's behavior is that he and I have been best friends from the moment we met. No aggression, no reaction. I guess he's just selective.
Still a big, old puppy at about 15 months old, Murfee has come a long way. Where he used to jump up on me with abandon, he now knows that if he will sit, I will let him put his paws on my shoulders and give me a hug. He has also learned that "down" means paws on the floor so another dog can get hugs, though he will still try to get into the middle and make it a group hug. When a greeting occurs after even a short absence, it's controlled chaos, but he settles down quickly after plenty of hugs and kisses.
When he first arrived, Murfee would express his desire for attention by softly biting and pulling. After three months of redirection, he now gives my hand kisses instead of bites. He will sometimes revert to the gentle bite if he gets excited dring playtime, but a verbal reminder (no bites! kisses) is all it takes to curb that behavior.
I prefer to let my dogs have the run of the house, even when I'm not home. It took Murfee a while to learn that the doggie door is there for a reason, and there were "accidents" to deal with. During the month of November, I've only had to deal with one "accident", so significant progress has been made in that aspect of his house manners. He sleeps on the bed with me, or in a dog bed in my office, whichever he prefers.
Murfee learns quickly and knows that he is not allowed in the kitchen unless he is called to supper with the rest of the pack. He will, however, sneak in there and attack a tea towel if the opportunity presents itself. Used paper towels and tissues left in my office trash bin are another of his favorites, so I keep him out of trouble by keeping it covered or behind a closed door.
Weighing about 28 pounds, he is up to date on all of his shots and heartworm preventative. He gets along very well with other dogs and is making steady progress at learning how to interact with strangers. It is unknown how Murfee is around children and cats. He has no stairs etiquette whatsoever, so one needs to be careful when going down the stairs.
To start the adoption process, please fill out an application and contact curt@curtharvey.com.
BRBCR's approval process includes phone interviews, reference checks, and a home visit prior to meeting a foster dog. Approved applicants must meet at the foster dog's location, in this case Bluemont, Virginia. Every adoption begins with a 2-week trial period.
Murfee's adoption fee is $300.
Thank you for considering a rescue dog!