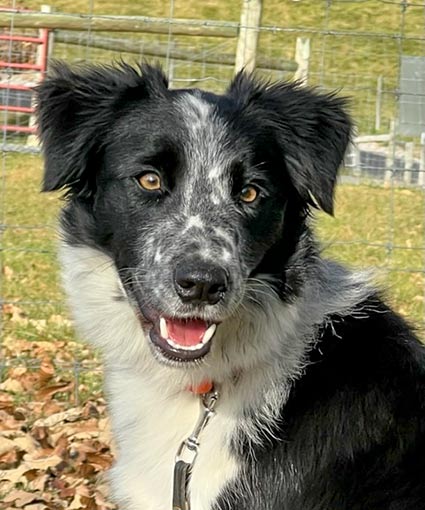 A Tax deductible sponsorship gift of any amount is welcome in support of our rescue dogs.
ACTIVITY LEVEL: Active Companion
Mona's adoption is pending!
This sweet girl is looking an active home with a fenced yard. She is a love, but definitely needs her exercise. She is friendly with all people including kids. She loves playing with other dogs and would love to have another border collie friend. She was also raised with cats, which she like to play with and chase.
Mona is just a year old and has a lot of puppy behaviors. She loves toys, but must be supervised so she doesn't chew them up. When Mona can't be supervised while inside, she needs to go in a crate and can not be trusted left alone. This will help prevent house breaking accidents and any unwanted chewing. Mona likes her crate and sleeps in it at night.
Mona knows some basic obedience like, sit, down, and just wants to learn new stuff!! She walks nice on a leash, is crate trained, and rides well in a kennel in a vehicle.
Mona will be available for adoption after she's healed from her spay surgery. Approximately December 1. Mona will be spayed, up to date on vaccinations, she's been in heartworm and flea preventatives.
For more information about Mona please fill out an adoption application and then contact her foster mom at sylviaspets@aol.com. All potential adopters are required to have a home visit prior to placement of one of our rescues, and we offer a two-week trial period when you adopt one of our dogs.
Mona's adoption fee is $300.
Thank you for considering a rescue dog!