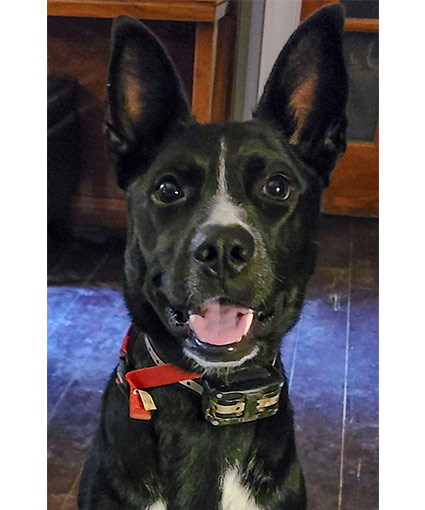 A Tax deductible sponsorship gift of any amount is welcome in support of our rescue dogs.
ACTIVITY LEVEL: Active Companion
Buddy's adoption is pending.
Formerly listed as JoDo, we always call him "Buddy", so it only makes sense to him that we officially make his name "Buddy"! Buddy is a male BC mix, 18-24 months (about 2 years) old. He is up to date on vaccinations and heartworm preventive.
Buddy is house trained, and crate trained. He knows the commands 'sit', 'down', 'off', and 'crate'. He is exceptionally good at sitting and waiting patiently for food or a treat. We are still working on his recall and, for this reason, we suggest potential adopters have a fenced in yard. He is getting better with this every day, but still has a way to go before I feel comfortable with him being off leash.
One of his traits that we find cute is how he communicates. Buddy will talk to you when he wants something. He will pick up a bowl to let you know he wants food. If he is being vocal or making noises with something, you know he is trying to tell you something.
Buddy is a perfect balance for a BC. He can be energetic and playful, so we believe he would enjoy an active owner. So far, he loves to play fetch with a ball or frisbee, tug-of-war, and chase a jolly ball. He can catch anything, so throwing treats to him is fun! Even though he is playful, he settles nicely, and enjoys cuddles, but not being picked up. When I work from home, he spends most of the day laying at my feet napping.
Buddy gets along great with other dogs and cats. He is very gentle. He also does well with older children. I can't speak to younger children, but he can sometimes get jumpy. Even though Buddy gets along great with other dogs in our home, I do feel that he would be much further along in his training if he were an only dog receiving all our attention.
All potential adopters are required to have a home visit prior to placement of one of our rescues, and we offer a two-week trial period when you adopt one of our dogs.
Thank you for considering rescue dog!