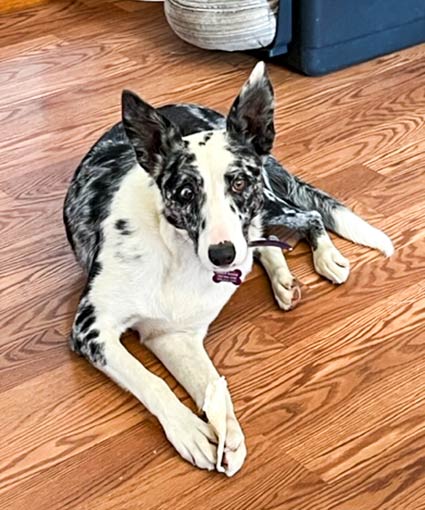 How You Can Help Cheyenne
A Tax deductible sponsorship gift of any amount is welcome in support of our rescue dogs.
ACTIVITY LEVEL: Active Companion
Cheyenne's adoption is pending.
This beautiful young girl is a blue merle Border Collie. She originally came from a farm with 3 other dogs. Her owner passed and the dogs were turned over to rescue.
Cheyenne is a very, very sweet, loving, girl that craves attention and is quite happy to be taking a nap in your lap. She wants to be with you 24/7 – we call her a velcro dog. She follows her foster mom everywhere. She likes being brushed and doesn't pull back when handling her feet or trimming her nails. She goes in her crate when asked. She's been an easy dog to have as a foster.
Cheyenne has an excellent recall, even when something else has her attention. She's very biddable which makes her easy to train. She was raised outside, but has adjusted very well to being inside – she now prefers to be inside with you…. or outside with you.. Mainly, she just wants to be with you.
Cheyenne sleeps in a crate at night and is quite content there. She's a quiet dog and doesn't make a sound in her crate. She likes to have things to chew on such as hard bones, biscuits, rawhide, and toys stuffed with food. So far, she's not interested in playing with the toys, just the food inside them. She's not a hyper dog, she settles down by her foster's side inside. Here on the farm, in the morning, she goes outside in a yard, walks around sniffing for rabbits and then waits at the door to come inside. In the evenings, she goes on a 30 minute run with the other dogs here. The rest of the time she's hanging out in the kitchen or napping in her crate.
Cheyenne is very friendly with people, but a bit shy to meet unknown dogs. She doesn't like strange dog running up to her face and will give warning signs to back off. She's very sensitive, so if she needs any type of correction, a gentle No and she stops what she's doing. She's easy to walk on a leash, but she doesn't need one here on the farm. She runs with the other dogs, but doesn't play with them.
Cheyenne is spayed, microchipped, up to date on shots, on heartworm preventative and flea & tick preventative.
All potential adopters are required to have a home visit prior to placement of one of our rescues, and we offer a two-week trial period when you adopt one of our dogs.
Thank you for considering a rescue dog!