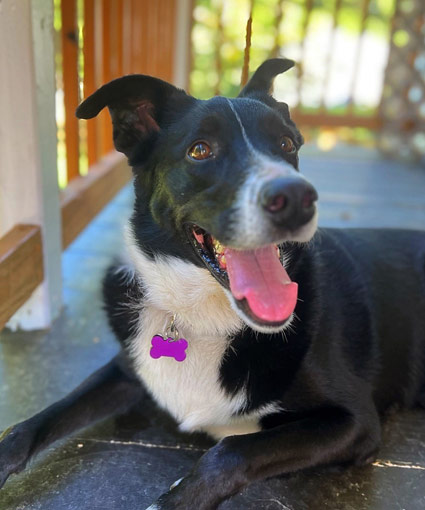 A Tax deductible sponsorship gift of any amount is welcome in support of our rescue dogs.
ACTIVITY LEVEL: Active Companion
Meet Jack!
Jack is approximately 4-years-old, and most likely a mix of an Australian Shepherd and Border Collie. He is a solid 60 pounds, has a super soft short coat, and a docked tail. But just because he doesn't have a long tail to wag doesn't mean you can't tell when he is happy, because he is always happy! Jack is loving, playful and eager to please his person/people. He is super sweet and definitely a velcro dog.
Jack knows basic commands, and has a good recall, but as with all rescues, he could benefit from additional training. Training may be beneficial also, as herding breeds like him thrive on mental stimulation. He is house trained and has not had any indoor accidents at his foster home. Jack walks well on a leash.
Jack likes chasing (and catching!) a ball in the yard or chewing on a bone inside. He is an active pup and will run until exhausted, but does have an off switch, and is just as happy plopped on the couch with his person.
Jack is looking for a home where he is the only dog, no exceptions here. Jack has not been tested with cats but most likely would do best without them. Jack is sociable with all people but because of his size and play style, a home with older children would be best. Jack needs a fenced in yard.
If you are the perfect forever home for Jack, please fill out an application and contact his foster parents at 540-272-0470 or at karinmaida@aol.com. BRBCR's approval process includes phone interviews, reference checks, and a home visit prior to meeting a foster dog. Approved applicants must meet at the foster dog's location. Every adoption begins with a 2-week trial period.
Jack's adoption fee is $300.
Thank you for considering a rescue dog!