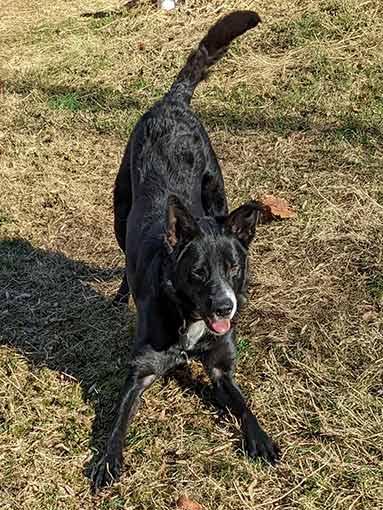 A Tax deductible sponsorship gift of any amount is welcome in support of our rescue dogs.
ACTIVITY LEVEL: Active Companion
Meet Dudley!
Dudley is a very good boy. He's house trained, crate trained and has great house manners. In his foster home, he doesn't need crating when left alone, though he is crated at night just to be safe. He's not even a big barker. Outside in the yard he's also a good boy—running around, trying to engage the other dogs in play and coming when called. He's generally a happy guy, and his bounciness and cheerful attitude make him seem like he'll be a puppy forever, but without all the puppy training.
We don't know a lot about Dudley's history, other than that he was found stray in southeast Virginia. He came to us because the shelter there didn't have the time to help him work through his fears. He's come such a long way! He's gone from being too terrified to leave his crate to being a very affectionate member of the household who loves to lie at your feet or sleep next to you on the couch. He's still a jumpy guy and will startle at loud noises. However, he does this less and recovers much more quickly now.
On walks Dudley is polite to all. He warms up to new adults quickly, and is friendly and curious with children. Because of his nervousness and sound sensitivity, he would do better with only occasional child visitors and the option of staying away from them. He lives in a house with other male dogs and gets along well with them, and also really likes some of the female dogs he's met in the neighborhood. He is very playful with other dogs and his dorky play-style has been vastly improved lately with a new young foster brother who loves to run as much as he does. Cats are unknown but I wouldn't expect problems with a dog-savvy cat.
Dudley loves to run for the sheer joy of it, so a safe place for him to run is a must. He's gotten a bit bolder lately and will occasionally chase squirrels, so a fenced yard is preferred. He could also be an off-leash hiking buddy with a little work. Wonderful as Dudley is, he is not a dog who loves to perform tricks or chase toys.
Dudley is neutered, microchipped and up to date on vaccines and preventatives. He was treated for heartworm, but was never symptomatic. The veterinarian expects no future complications.
To start the adoption process, please fill out our application and contact Dudley's foster mom Cathy at cathy.kinzie@verizon.net. All potential adopters are required to have a home visit prior to placement of one of our rescues, and we offer a two-week trial period when you adopt one of our dogs. Dudley's adoption fee is $300.
Thank you for considering a rescue dog!