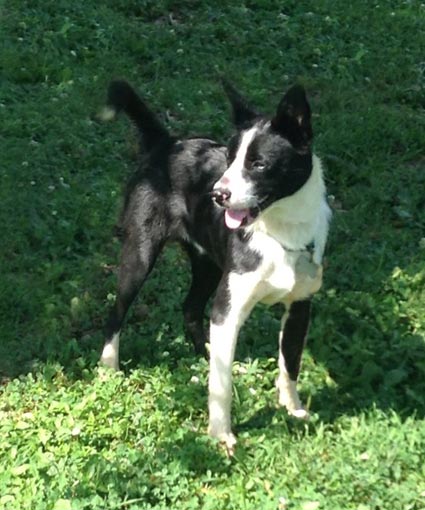 A Tax deductible sponsorship gift of any amount is welcome in support of our rescue dogs.
ACTIVITY LEVEL: Very Active Companion
Meet Casper!
Casper and his sister, Wendy, were picked up as strays in WV about two months ago. Casper is very friendly and social, and not at all timid or afraid. He likes everyone he meets!
Casper is very energetic and enthusiastic! He does not appear to have had any training prior to rescue. He is learning not to jump up on people when greeting them, and to wait for permission to come through a gate or doorway that is opened. He is learning basic commands such as "come", "sit", "no", and "okay".
He has been very good with the other dogs at his foster home, and would benefit from having a well-mannered dog to act as a mentor. Casper is also learning that cats and chickens are not for chasing!
He is definitely a work in progress! It helps that he is very smart and quite food motivated. A basic puppy class would be very beneficial. His ideal adopter should have some training experience.
Casper requires a fenced yard.
If you are the perfect forever home for Casper, please fill out an application and contact his foster parent at faithandquest2@gmail.com. BRBCR's approval process includes phone interviews, reference checks, and a home visit prior to meeting a foster dog. Approved applicants must meet at the foster dog's location. Every adoption begins with a 2-week trial period.
Casper's adoption fee is $300.
Thank you for considering a rescue dog!