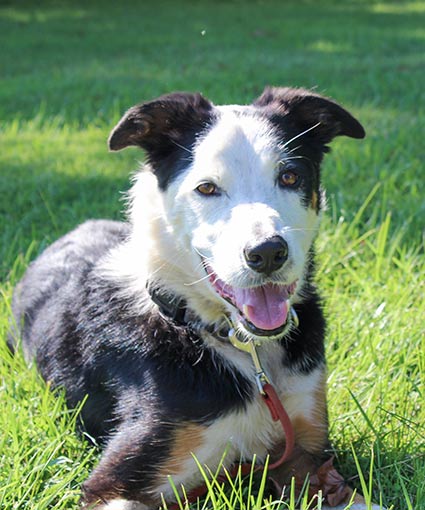 A Tax deductible sponsorship gift of any amount is welcome in support of our rescue dogs.
ACTIVITY LEVEL: Active Companion
Meet Astro!
This boy is looking for an active home! He would be a great companion for someone who is a runner, enjoys hiking or just wants a companion to participate in outdoor activities. A fenced yard is also important so he can enjoy the outdoors.
Astro has been raised as a house dog so his indoor manners are good. He is good on a leash and knows his obedience commands. He is crate trained and has good car manners.
In his foster home he has been living with multiple dogs, cats and birds and gets along well with all of them. He does tend to get very excited by dog activity so he will need a calm leader who is comfortable with handling this type of dog. With his foster mom he quickly learned what behavior was expected and is very good in groups of dogs in his foster home now. Though he is well behaved in groups of dogs he has shown no interest in playing with them and is not a dog park type.
He has been friendly with adults and would probably do well with older children. He has shown no interest in playing with toys. Astro is happiest enjoying activities with his person. He loves going places with his foster mom and has been well behaved on his outings.
For more information about this very nice boy please call Karin, 540-272-0470 or email at karinmaida@aol.com. All potential adopters are required to have a home visit prior to placement of one of our rescues, and we offer a two-week trial period when you adopt one of our dogs.
Astro's adoption fee is $300.
Thank you for considering a rescue dog!