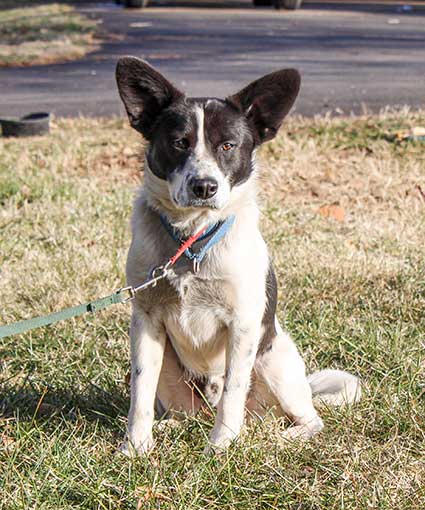 A Tax deductible sponsorship gift of any amount is welcome in support of our rescue dogs.
ACTIVITY LEVEL: Active Companion
Meet Skipper!
This cutie pie is looking for a very special home. His ideal home would have a confident, playful dog to help him work through his fear issues. Skipper loves to play with other dogs! He is also excellent with cats and other small animals. We don't know anything about his background but it's obvious that he was never a house dog and wasn't exposed to anything outside his living environment which apparently was rural.
Skipper shows his cheerful personality when he's comfortable. In his foster home his comfort place is outside in the yard and there he's very playful. A securely fenced yard is a necessity for him as he is a flight risk because of his fear issues. He is comfortable in a crate and will need a crate to have a safe place where he can observe activity in the house. He's getting more comfortable in the house but still will need a patient family to help him acclimate.
He has obviously learned to be fearful when you call him to come in and will run and hide if pursued. He's had a lot of practice on a long line and has learned to trust his foster mom. He now generally comes happily when he's called for treats and ear scratches. Under no circumstances has he ever showed any fear aggression even when cornered. He's doing very well with his leash manners and obedience commands.
The car is another fear but he has learned to jump in for treats.
If you'd like more information about this cute boy call Karin at 540-272-0470 or email at karinmaida@aol.com. All potential adopters are required to have a home visit prior to placement of one of our rescues, and we offer a two-week trial period when you adopt one of our dogs. Skipper's adoption fee is $300.
Thank you for considering a rescue dog!