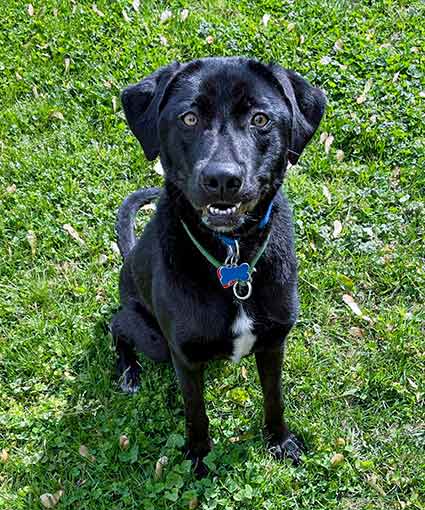 A Tax deductible sponsorship gift of any amount is welcome in support of our rescue dogs.
ACTIVITY LEVEL: Sport/Active Companion
Meet Remy!
Remy was a puppy from a liter born in foster care to a previous Blue Ridge BC Rescue dog, Dixie. Dixie and her puppies have their own Facebook page, https://www.facebook.com/DixiannasPupdates. On that page you will find a DNA test we did for Dixie, Remy's mom.
Remy was adopted as a puppy. When it didn't work with her new family, she was returned to us and is being fostered in Culpeper, VA.
Remy is what I would describe as a 'body' sensitive dog. In her previous home she reacted by growling and snapping when grabbed by her collar and forced to do something, like return to her crate. The family wanted Remy to be an emotional support dog for the children, but the dynamic was too hard for a young puppy. Since she has been back, her issues are slowly getting better as she matures and gains confidence. I don't think she is ready for home with younger children. She is doing so much better and is ready for a new start is a quieter home.
Remy is still wary of new people and situations, given time to adjust she will fit in very well, as she has with her foster mom and all the other dogs in the house. A young neighbor dog comes over to play and they love to chase around the yard. Remy is a young active dog who needs a home where she will get exercise. Remy loves to play and will romp around the yard with a ball or a toy. We have a small pond, Remy loves to jump in it on hot days.
She is still wary of new people and new dogs, then she quickly warms up and remembers them when she meets them again. Remy is good in the house, has basic obedience skills, will generally come when called.
To start the adoption process, please fill out our application and contact Remy's foster mom, Sue Weis, at sue.weis.99@gmail.com. All potential adopters are required to have a home visit prior to placement of one of our rescues, and we offer a two-week trial period when you adopt one of our dogs. Remy's adoption fee is $300.
Thank you for considering a rescue dog!