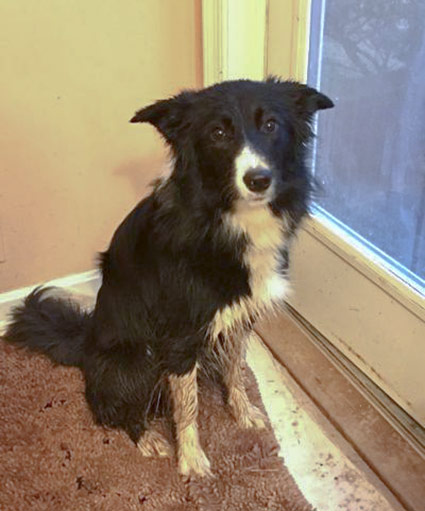 A Tax deductible sponsorship gift of any amount is welcome in support of our rescue dogs.
ACTIVITY LEVEL: Sport / Active Companion
Emma's adoption is pending!
Emma is an almost 4-year old spayed female border collie who is looking for a sport home. She is a super sweet girl, housebroken, and up-to-date on all her vaccinations. She settles down for a full workday after a good run in the yard or a long walk or hike in the woods in the morning. In the evening she likes to play frisbee or an enthusiastic session of tug with her human companion. She's always ready for play or training sessions, and is very food motivated. If you're not ready to play, no worries! She'll entertain herself with either a frisbee or her toys. At night, she loves cuddling and often sleeps in the bed. She gives the best hugs and kisses! She has not lived with cats and only occasionally has seen them, so her reaction toward them is not known. She is good with older children, but although she seems to like younger children, she may be too exuberant for them.
She is registered with ABCA and NACSW (for K9 Nose Work), and has a PAL registration through AKC. She does not like herding, preferring frisbee or tugging instead. She has earned her AKC Canine Good Citizen and Novice Trick titles, and her NACSW Odor Recognition title. She would probably enjoy agility and obedience, too. She is very smart and very energetic. She requires a fenced yard in which to run and structured activity to challenge her mind. She has a tendency to react to cars driving past and toward bullying other dogs, and requires an experienced handler.
All potential adopters are required to have a home visit prior to placement of one of our rescues, and we offer a two-week trial period when you adopt one of our dogs.
Thank you for considering a rescue dog!