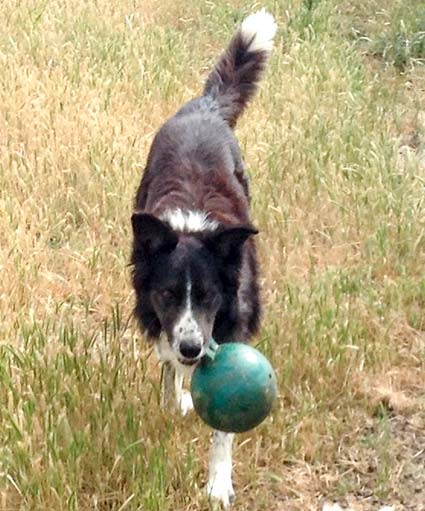 A Tax deductible sponsorship gift of any amount is welcome in support of our rescue dogs.
ACTIVITY LEVEL: Active Companion
Meet Trevor!
Trevor is a delightful, playful ten years young. He looks and acts half his age.
Prior to coming to his foster home, Trevor had never been inside of a house. He had to learn about steps, which were very scary at first.
Trevor spends most of the day outside, either in a large kennel run or a fenced 1/2 acre area. He also spends some time loose in the yard with his foster mom and her dogs. He is crate trained, but has not been yet trusted loose inside. We are going to begin working on that while he wears a male doggie wrap, in case he is tempted to mark.
Trevor gets along with all of his foster mom's dogs, and has not been any problem with the cats or free range chickens and guineas. He would, however,be very happy to be the only dog and have his person all to himself. He is very affectionate and really wants to please.
Trevor is very mannerly. He walks fairly well on leash and has a reasonably good recall. He knows sit, lie down, and "get back". He rides well in a car inside a crate.
He LOVES to play fetch with a ball or disc!
Trevor would not be a good candidate for a family with small children, and he requires a securely fenced yard.
When Trevor was recently neutered, it was discovered that he has a slightly elevated kidney enzyme. His condition is being managed, per the vet's instruction, with a special, homemade diet low in phosphorus and inexpensive medicine that lowers his blood pressure. The diet is very easy and not expensive.
To start the adoption process, please fill out our application and contact Trevor's mom, Kay, at faithandquest2@gmail.com. All potential adopters are required to have a home visit prior to placement of one of our rescues, and we offer a two-week trial period when you adopt one of our dogs.
Thank you for considering a rescue dog!