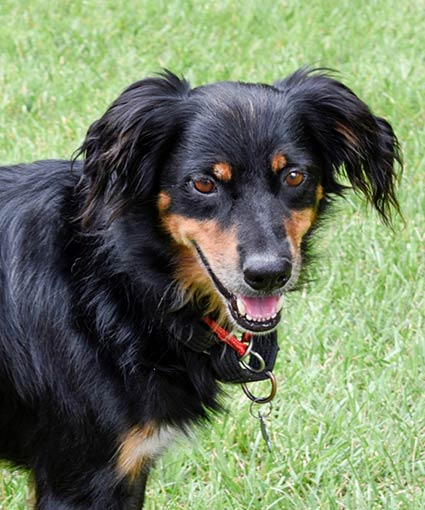 A Tax deductible sponsorship gift of any amount is welcome in support of our rescue dogs.
ACTIVITY LEVEL: Active Companion
Meet Babu!
Babu is a male, neutered, Border Collie mix, 8+ years old. He was originally thought to be 10 years old but the various vets that have examined him indicate that he is not that old, but rather about 8. His passport indicates a date of birth of February 2, 2014. He came to the U.S. from the Greek island of Karpathos.
He is chipped for identification and is listed in a national pet registry.
He was diagnosed with heartworms his first week in foster care but has since gone through the entire heartworm treatment process. He does receive recommended monthly heartworm prevention treatment as well as monthly prevention treatment for ticks and fleas.
He weighs in at 35 pounds. He loves people and loves to meet new people – any, and all people. He is very curious and loves attention.
He is energetic and tries hard to catch squirrels in the foster's back yard, but the squirrels are too clever and have lots of trees for escape routes.
He gets along very well with the foster's other dog, a female Border Collie. He is very respectful of his 'big sister' and defers to her. He loves to be wherever the people are in the house – very loyal.
He does not react well when he meets other dogs so that is a work in progress of getting him used to meeting other dogs. Once he is with another dog for a couple of hours, he is fine after that. So, the challenge is walking him and momentarily encountering other dogs. He is recommended for placement in a rural setting rather than a heavy urban area with many other dog walkers out and about. There is nothing wrong with his eyesight – he is very alert and can spot another dog a half mile away.
He is not a dog park dog due to his reaction to other dogs.
He loves to ride in vehicles and loves to go for walks.
He is very motivated with treats.
He does need a fenced yard to roam and run when he is outside.
He is a very good sleeper at night and doesn't stir throughout the night. He goes outside around 8:30 or 9:00 pm and is good then for the entire night. When he shuts down for the evening, he's down for the count.
He is quite nervous with thunder and lightning and will look for a place to hide. He does not like gunshots as sometimes we can hear them from a distant gun range while out walking in one of our nearby parks.
The two encounters we have had with cats is that he ignored the first cat – he was not interested in the cat at all. He calmly sniffed the second cat and walked away.
He is crate trained and has no issues with going in the crate – he always gets a treat for going in. The only time the crate is used is when both foster parents leave the house for an hour or two. The most time he spends in the crate is around two hours while the fosters run errands, etc.
He is respectful and will wait until invited to go out our back door into the garage. He will wait to jump in the vehicle until he is invited in. He does like to sit on the back seat and look out the window. We do use a harness and a seatbelt dog strap for safety.
He is patient and respectful. He does not bother anyone at the dinner table. If he smells something being cooked, he will respectfully hang out nearby and not be adamant about getting a taste. When we are out leash walking and stop to visit with other walkers, he is very respectful and patient during this time of being idle. He hangs out until we are ready to proceed on the walk but does relish attention from other people.
He is a very good boy – he just needs some TLC in dealing with meeting other dogs.
If you are interested in adopting Babu, please fill out an application and contact his foster parents, Gary and Linda at garlind68@gmail.com. All potential adopters are required to have a home visit prior to placement of one of our rescues, and we offer a two-week trial period when you adopt one of our dogs.
Babu's adoption fee is $300.
Thank you for considering a rescue dog!